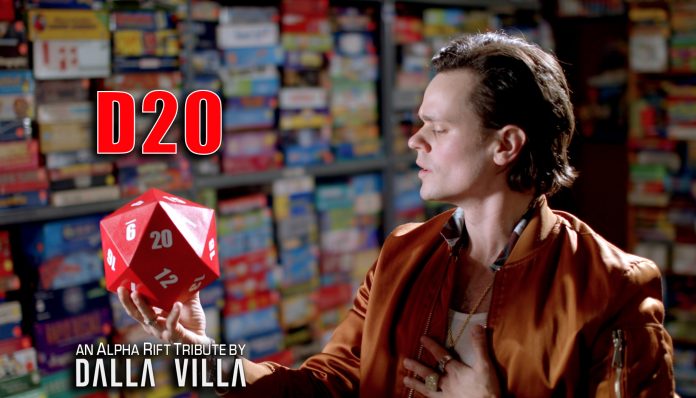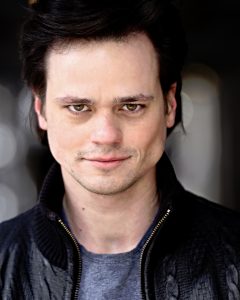 Music artist and actor Aaron Dalla Villa just released his catchy new music video for his single "D20: Alpha Rift Tribute", highlighting the gaming world. The song is now available in digital format through "Dalla Villa's" Spotify, iTunes, Apple Music, Google Play, Amazon Music, iHeart Radio, Pandora, Deezer, Napster, and more outlets. Listen to the single here: [link]
Watch the music video below:

Recently cast in a movie "Alpha Rift" as a dude who owns a game store, Aaron Dalla Villa plays a "D&D-like" game based on the Noblemen Legend in the movie. During the process of making the film, Aaron was surrounded by gaming culture and thought it was so cool. Adam Danoff, the film's stunt coordinator, is a HUGE D&D guy, so he suggested Aaron make a song about gaming. D20 dice appear several times in the movie, and it inspired Aaron. Adam contributed a lot of the gaming lyrics, such as "burning slots" and "Doing Math in a flash." Aaron is a bit of a noob when it comes to D&D, but the film has really opened up a whole new world for him.
"This song was a lot of fun to create and even more fun to shoot. I've always been a bit of a nerd so it was only a matter of time before I got pulled into this side of gaming. Half Orc Barbarian!" – Aaron Dalla Villa
"I've been a huge D&D fan for around 15 years, so creating this song was an awesome chance to combine hundreds of pages of lore with a sick beat. I loved bouncing ideas back and forth, crafting the perfect rhyme for each reference, and cracking up laughing at the visuals." – Adam Danoff
"I was smiling and laughing the whole time working on this song. The elements of games, rap, and Alpha Rift made it such a blast!"
– Rachel Nielson
Lyrics for "D20: Alpha Rift Tribute" were created by Aaron Dalla Villa and Adam Danoff, with music by Graham Wolfe. Aaron Dalla Villa and Rachel Nielsen provided vocals. The music video is directed by Dan Lantz, with the production company Impulse-FX.
Aaron Dalla Villa recently released several singles, including: "Conspiracy" (directly inspired by Eminem), "Demon Killer" (inspired by Kanye West, MF Doom, and Nas), and "Bring It" in collaboration with Grammy Award Certified Health Champion, Paul Anthony, of the Legendary Hip-Hop / R&B group, Full Force. The songs are all presently available on all digital music outlets.
In addition to Aaron's latest music releases, he has over 50 actor IMDb credits that include studio films, independent movies, and high-profile television shows such as "Gotham" and "Madam Secretary." His past film work consists of the popular features "Pledge" and "Trick," along with "Alpha Rift," and "All Those Small Things" (which he also wrote some music for), and more. Aaron also does voiceover work and theater.
Aaron Dalla Villa is represented by Bonnie Shumofsky of Stewart Talent and Wendy Shepherd of Studio Matrix .com for publicity and brand management.
Connect with Aaron Dalla Villa online: [IMDb] [Official website] [Spotify]
Headshot photo credit: Melissa Hamburg Photography.

Article by Wendy Shepherd of Entertainment Vine.
* * * Please support independent press * * * Thank you!