Wendy Shepherd of Entertainment Vine: Hi MikelParis, thanks for doing this interview. It looks like you've had a fantastic music career to far! Working with great talent including platinum-selling artist PINK, TRAIN, The DAN BAND, JEWEL, and O.A.R. You must have created some unforgettable memories.
How did you get started with making such influential connections?
MikelParis: When I was in music school, I thought I had my path planned out. Graduate. Get a record deal. Take over the world. I quickly realized that as a creative, plans need to be flexible. The most important thing I realized was that as long as I was continuing down the path of music, performing, and creating that all was good. I was fortunate enough to be outgoing and social, so putting myself audition situations was natural. I auditioned for plays and music groups throughout my education years. The trick was to realize that if I didn't get cast in a play, it wasn't because I sucked but that I wasn't right for the part. So when I saw auditions for this new performance group Stomp, I put myself out there and was fortunate enough to be cast in the show. I went into the audition with the attitude of enjoying the process. This was a valuable lesson. Stomp taught me the importance of following a path as long as it aligned with one's passions and skills. I was playing found objects and junk. Not what I went to school for, but I was performing and making music in an ensemble and meeting incredibly talented people. These connections led me to other opportunities. Performing in a Brazilian ensemble with my Stomp friends and playing on numerous records for my Stomp producer friend. These situations led to Pink's manager seeing me perform and reaching out to my producer friend about playing keys in her band. My Stomp friend Dan Finnerty reached out to me about playing keys in the Dan Band. Playing in the Dan band led to the tour manager reaching out to me while doing some tech work with O.A.R. about an audition for the band. One path leads to another. Be flexible and follow these opportunities wherever they may lead. It keeps the journey fresh and spontaneous.
Wendy: Where were some of your favorite places to perform?
M.P.: Performing at the Orpheum Theatre in N.Y.C. with Stomp was incredible. Gritty. Historical My first experience of "I made It!". Performing at M.S.G., both with Pink and O.A.R., was magical. Growing up, seeing concerts in arenas was my first exposure to live music. Performing at Red Rocks in C.O. never gets old.
Wendy: Who has been a guiding light in your music career journey?
M.P.: My first piano teacher Mary Blish infused me with the joy of music. By supporting my passions for the styles of music to practice, instilling in me the importance of playing the classics, learning from styles that might be out of one's comfort zone, and never getting angry at me when I didn't practice. I would try to convince her that I did because I was a good sight-reader, but she always knew. "You didn't practice this week, did you, Michael?". And watching her play was inspiring. That motivated me to continue.
Wendy: What have been some of the unexpected challenges you've faced?
M.P.: Deciding to pursue Jazz in college was a challenge. I was playing in the jazz band in High school, so I figured I would focus on that in college. That didn't quite turn out how I thought. They wanted me to focus 100% on Jazz, and that wasn't what I wanted. I realized in college that my M.O. was to learn and experience as many diverse things as possible. Different styles of Music. Theatre. Photography. Film. Editing. Writing. After two years, I switched to Music Composition, and my world changed. The first week, my teacher asked: "What are you working on now?". "A play." "Ok. I'd like to hear the music for Act 1 by next week". I was elated.
Wendy: When did you decide to create solo projects? How many solo projects have you released?
M.P.: I started writing songs in High School. I performed my first song at my High School graduation(much to the chagrin of my Choir teacher who said I had missed the deadline for the program…I did it anyway) In college, I had my keyboard and recording gear always set up. Writing. Exploring. Developing my style. I knew that this was my path. Even if I was involved with someone else's creation, I was working on my music and ideas. I've released four solo albums. I have 100's of songs still to be recorded and released. I have filmed 60 episodes of TuneTrek. My creative mind is always coming up with ideas and ways to put out unique forms of art.
Wendy: Can you explain the details about your new project, TuneTrek? And what is HouseTrek? When did you start each of them?
M.P.: TuneTrek was born out of a desire to combine all of the things that I love; travel, history, and of course, music. I was motivated back in 2012 when I realized that I was becoming lazy in having adventures while touring playing music. I need something to get me out of the Tourbus and hotel and exploring cites again. I took inspiration from shows and people that I admired, such as Anthony Bordain, Live at Daryl's House, Survivor Man, School House Rock. I began exploring this idea of a musical history tour—a way to tell stories of lesser-known historic landmarks through the power of music. Challenge myself to write a song for each location I visited. Show my creative process along the way. Do everything myself.
HouseTrek was a natural progression born out of my desire to perform my solo music but on my own terms. Not feeling the pressure of playing a venue and trying to get people to come to the show. The idea of House Concerts has been around for centuries. The great classical composers would perform new works in people's homes. Intimate. Listening audience. I decided to combine this idea with the filming of a TuneTrek. Hence the term HouseTrek. A host brings me into their home town. Helps me find a filming location. Gets to come to a filming day and have a cameo in the episode (and I put them to work as well… holding a light… carrying a tripod). And then we have an intimate house concert for friends and family. I began this idea in 2015 and am just about to launch the Spring/Summer HouseTrek season 2020.
Wendy: How many episodes of TuneTrek have you created?
M.P.: I've filmed at 60 locations and am currently releasing TuneTrek shorts, shooting for one a week with content every day, hoping to get through 30 episodes. I've had seven episodes air on two PBS stations (WOSU, MPBN) and am currently looking for a home for the show.
Wendy: What goes into making an episode of TuneTrek?
M.P.: I research the location that I'm going to be visiting either on tour with the band or for a HouseTrek event. Historic online databases and historical societies are good starts. Once I decide on a site that resonates with me, I begin researching the history and story and finding lyrical ideas from what I read. I always have my creative brain focus on the site for about a week and come up with a melodic idea and rough structure. Sometimes the site will have a piano, so that will be my starting point. Most times, I write on my acoustic guitar using my style of playing called GuitarDrumming. I hold the guitar flat and incorporate the techniques of playing the piano, bass, drum, and guitar into a rhythmic, percussive texture.
I'll then use Google Earth and pictures that the historian sends to scout the location. Determine where the sun will be and create a loose storyboard. I like to have three days at the location. When I began, I would often only have 3 hours. One day for external shots and photo walk. One day for the interior. One day for the tour with the historian and performance of the song. I'm usually a one-man show throughout the process. I travel with all of my gear. DSLRs. Tripods. Steady cam. Motor control rig. Lights. Wireless laws. Guitar. Once I've filmed everything, I back up all of the content and begin organizing. I like to view all of the footage and label everything, color coding the clips that I like. Then I'll throw everything into Adobe Premier and start getting a feel for the story. Once I have a rough outline, I'll dive into Protools and get a working version of the song. Then back to Premier to lock in an edit that I can then import into Protools to begin the Audio replacement phase—getting all of the good audio from the lavs, adding room tones where needed, recording voice-overs, and music overdubs. Then I render audio stems and throw them back into Premier so that I have the ability to manipulate elements as needed, and work on transitions, then end with color corrections. I'll render teasers, music video, outtakes/bloopers, and the full episode. I'm able to do all of this in around five days of 5-7 hours a day. I, of course, force myself to take breaks from the computer. Super important. Get up. Stretch. Give the eyes a break. Allow my brain to percolate on the edit.
Wendy: How do you vet each location for TuneTrek or HouseTrek?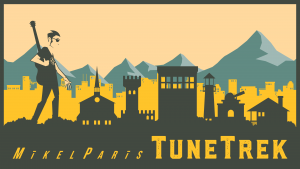 M.P.: I try to find TuneTrek sites that are different than places I've been before. The story has to inspire me creatively, and I have to know that there will be places that will have good acoustics. I try to look at each site as a recording studio, capturing audio that will be sound unique because of the place it was recorded. HouseTrek locations are based on where the hosts live. I try to find a filming site that is either in the same town or county as the HouseTrek. Within 30 minutes.
Wendy: Have you had any safety concerns while traveling or performing at locations for TuneTrek or HouseTrek?
M.P.: Hmm, not really. I don't film at vacant or dilapidated sites. Every place I film has been authorized by the site or city. Sometimes I have to get a filming permit. There have been a few times where I've been allowed up to an old attic or bell tower of an old church where I've had to be extra careful but safety first. I'm not trying to compete with Free Solo or Skydiving. The rush I get is entering into an old place for the first time and sensing the magic and stories that the structure has observed over the years. Performing music in places that have never had that before.
Wendy: What has been your favorite TuneTrek experience so far?
M.P.: That's a hard one. It's like what is my favorite song to perform. They all have a place in my heart. They all resonate in different and unique ways. Some of the cool places I've filmed, however, would be The Reed Gold Mine(N.C.), Danger Cave(U.T.), U.S.S. Olympia(P.A.), Absecon Lighthouse(N.J.), Hilliard Mills(C.T.) to name a few.
Wendy: Where can people find out more about TuneTrek and view your current episodes?
M.P.: TuneTrek.org. youtube.com/MikelParis. @TuneTrek @MikelParis on all socials. MikelParis.com for HouseTrek.
Wendy: Can you give some tips for how musicians can stay safe while traveling?
M.P.: Keep healthy! Body and mind. Don't ride the escalator. Take the stairs. Drink lots of water and green tea. Sleep a lot! Take long, hot showers. Eat well and many small meals throughout the day. I'm a forager. Be smart and stay focused while driving, flying, training, walking, busing. Don't shut yourself out of the environment. I rarely walk around with earbuds or headphones. Stay connected to your surroundings. Smile and put out positive energy.
Wendy: Thank you for sharing, MikelParis!
( Thanks for reading! ~ Wendy Shepherd )
* * * Please support independent press * * * Thank you!