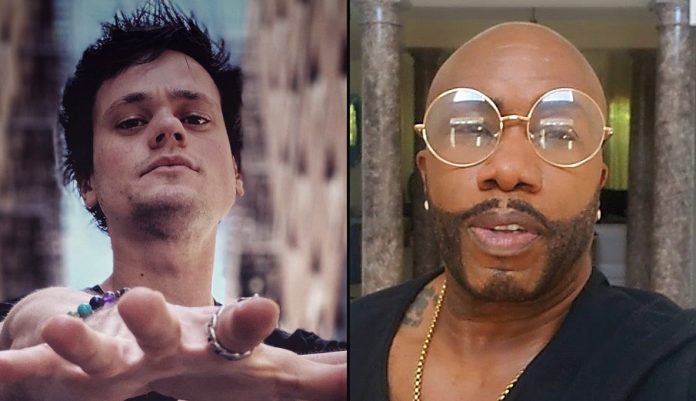 Music artist and actor Aaron Dalla Villa just released his third single "Bring It" in collaboration with Grammy Award Certified Health Champion, Paul Anthony, of the Legendary Hip-Hop / R&B group, Full Force.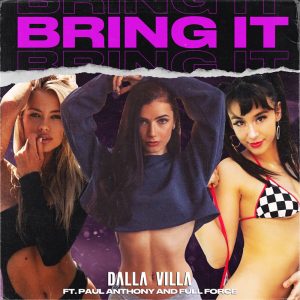 "Bring It" is a collaboration of sexy pop-rap, throwback, and global club banger with a modern twist. The song became available in digital format on September 18, 2020, through Spotify, iTunes, Apple Music, Google Play, Amazon Music, iHeart Radio, Pandora, Deezer, Napster, and more outlets. Here is the full song:
https://open.spotify.com/track/5S94BJtoQgOWdQEKDyfsYy
Aaron Dalla Villa says: "Imma go and make another deal…nothing less than a quarter mill".
Aaron Dalla Villa recently released two singles, "Conspiracy," (directly inspired by Eminem) and "Demon Killer" (inspired by Kanye West, MF Doom, and Nas). The songs are presently available on all digital music outlets.
In addition to Aaron's latest music releases, he has nearly 50 actor IMDb credits that include studio films, independent movies, and high profile television shows such as "Gotham" and "Madam Secretary." His past film work consists of the popular features "Pledge," and "Trick," along with "Alpha Rift," and "All Those Small Things" (which he also wrote some music for), and more. Aaron also does voiceover work and theater.  
Aaron Dalla Villa is represented by manager Tarri Markel of Cohen Entertainment and Wendy Shepherd of Studio Matrix .com for publicity and brand management.
—–
Produced By: Full Force, Cap Slap And DJ House Party
Featuring models Impress Yumi, Alena Davids, and Annie Palmz
Bring It artwork by Coppa Media
About Aaron Dalla Villa:
Aaron Dalla Villa was born and raised in Suffolk, Virginia, and studied music and dance training at the prestigious Governor's School for the Arts in Norfolk, Virginia, in classical ballet and classical modern dance. Prior to experiencing an injury, he had a career in dance and worked with NB2-Nashville Ballet Second Company.
After moving to NYC, Aaron continued to pursue performance as an actor and has been featured in numerous film, television, and theater roles, including a starring role in the feature film "Pledge" (distributed by IFC Midnight) a starring role in the feature film "Alpha Rift," a supporting lead in the feature film "All Those Small Things" (for which he also wrote some music for), a starring role on the series "Duels," a spot on "Gotham," a spot on "Madam Secretary," a spot on "Late Night With Seth Meyers," and voice work for "Hollister," "Starburst," "Liberty Mutual," and in the popular video game series "Earth Defense Force." He won Best Ensemble Broadway World Long Island 2015 for "Orphans," by Lyle Kessler, directed by James Bonney at the Conklin Theatre. He was also nominated for BEST ACTOR for his work in the award-winning short film, "The Fold," directed by Andrew Kiaroscuro.
Due to the world's complications with COVID-19, and with the tv/film industry shut down, Aaron decided to dive back into his musical talents and now has music available on all major platforms under his artist name DALLA VILLA. He has dropped two singles so far, "Conspiracy," and "Demon Killer," which have over 110k combined streams and he is planning on dropping several more very soon.
Connect with Aaron Dalla Villa online: 
Official website: http://aarondallavilla.com/
IMDb: https://www.imdb.com/name/nm3434373/
Instagram: https://www.instagram.com/aarondallavilla/
About Paul Anthony:
Paul Anthony is a Grammy Award Certified Producer- Singer- Songwriter- Influencer from the Legendary group: FULL FORCE. He has received many Diamond, Platinum, and Gold certification plaques, BMI & Ascap Awards, resulting from working with various music artists such as: James Brown, Rihanna, Patti Labelle, Nicky Minaj, The Black Eyed Peas, Lisa Lisa & Cult Jam, Justin Timberlake, N*Sync, Bob Dylan, UTFO, Britney Spears, Lil Kim, Method Man, Faith Evans, Cheryl Pepsii Riley, Fergie, Raphael Saadiq, Selena, Sheila E, and many more.
P.A. is an actor, known for the groundbreaking urban classic films, "House Party 1 & 2 (1990,1991)" which also starred his Brothers Bowlegged Lou, B-Fine, Kid N Play, Martin Lawrence, Tisha Campbell, and A.J Johnson. Paul is credited with being one of the first to bring fitness, bodybuilding and optimum health to the Urban, HipHop and Pop culture by incorporating it in videos, film, television, concerts, and recordings.
Paul aims to spread the message of health, fitness, nutrition, and the mind, body, spirit connection. Inspiring millions over a 35-year career, including Mr. Olympia favorite Kai Greene, Michael Jordan, Jamie Foxx, Will Smith, Sugar Ray Leonard, Busta Rhymes, and much more, including pro athletes from all pro sports.
Connect with Paul Anthony online: 
Official website: http://palivelife.org
IMDb: https://www.imdb.com/name/nm0030976/
Instagram: https://www.instagram.com/therealpaulanthony/
Article by EntertainmentVine.com
* * * Please support independent press * * * Thank you!