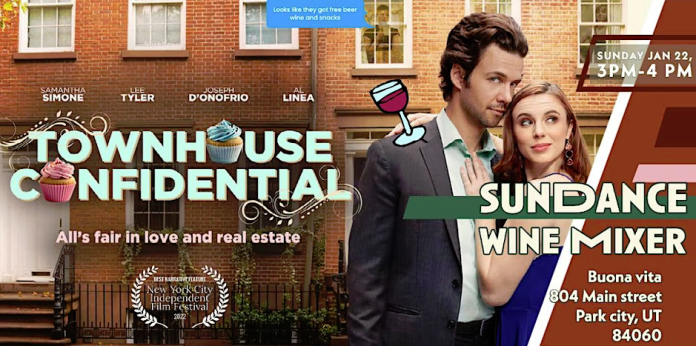 An afternoon wine mixer hosted by 'Townhouse Confidential' director Patrick Perez Vidauri of Migrant Filmworks and actor Samantha Simone is being held on January 22, 2023, from 3:00 pm – 4:00 pm MST during the Sundance Film Festival on main street at Buona Vita 804 Main Street Park City, UT 84060.
Event details: click here
In honor of the release of their indie romantic comedy 'Townhouse Confidential,' attendees will be able to enjoy a short discussion on how the film came to be and a dialogue on the challenges of creating successful indie comedies for under 1 million dollars.
In association with Double R Features, distributor Vision Films presents a Patrick Perez Vidauri Film, 'Townhouse Confidential' written by Rosalind Resnick. The film premieres on January 20-26 at New York's legendary Angelika Theater East and will be streaming everywhere on January 31, 2023. 'Townhouse Confidential' is a Best Feature winner at York Independent Film Festival 2022. The story is adapted from the novel of the same name by Rosalind Resnick.
'Townhouse Confidential' is Pride and Prejudice meets Sex in the City, set in the West Village. It explores love, real estate, and gentrification in the West Village. The cast includes Samantha Simone (Blue Bloods, You Follow Me), Lee Tyler (While He Talks, Bad Guru film collective), Brittany Bennett (A Drunk Scorpion Will Sting Itself to Death), Allison Wick (Bull, FBI, Chicago Med), Russell Sperberg, (Ask for Jane) Jonas Barranca (Hightown, One Dollar), Joseph D'Onofrio (Goodfellas, A Bronx Tale), Al Linea (The Irishman, Boardwalk Empire), Danny Bolero (In The Heights, Low Tide), Ernest Pierce (DTLA, Dance Flick) and Pepi Streiff (By the Grace of Bob, Broad City).
https://townhouseconfidential.com/
* * * Please support independent press * * * Thank you!