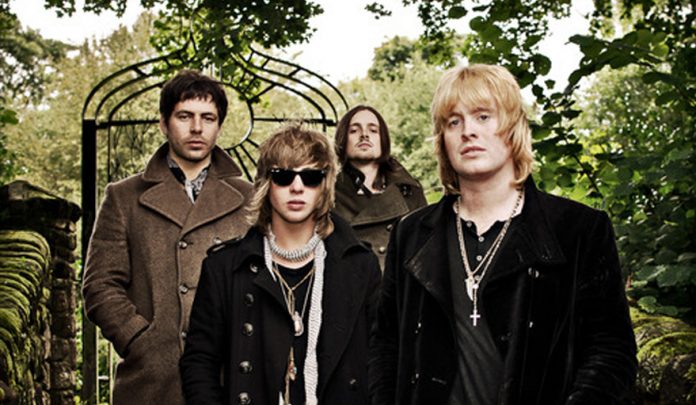 The Slydigs are an up and coming band from England, that just released their debut album, "Never to be Tamed" on Flicknife Records on September 24th, 2012. With their hit single, "Electric Love" tearing up the charts, the Slydigs are set to take over the music world. We recently chatted with two of the band members (lead singer Dean Fairhurst and lead guitarist Louis Menguy)  to discuss their origins, album and experiences.
Mandy: For people who aren't familiar with your band, introduce yourselves and explain where the Slydigs came from?
Louis: We are all from a place called Warrington in England. It's a small town halfway between Liverpool and Manchester. You may have heard of it because it's the hometown of Lewis H. Carol who wrote Alice In Wonderland. It is also the home town of Ian Brown (lead singer of The Stone Roses).
We all went to the same high school and have all been friends for years. After leaving school, me and Dean decided to start up a band because we both shared an infatuation with Rock and Roll and we believed we could start a band that could really make a difference to music. After a few years of gigging around the North West of England with a different line up, we decided to try out Pete Fleming on the drums and that's when things really started to take shape. It was around that time that we started to compile the songs that you can hear on our debut album Never To Be Tamed. Finally, we found the missing piece of the jig saw in the form of Ben Breslin on bass and things really started to move forward.
Mandy: Who are some musical influences for you, not only as musicians but as performers?
Louis: I think I am heavily influenced by a lot of early Rock and Roll, Blues and music from the 60s and 70s. Musicians and performers such as Chuck Berry whose energy and performance on stage is absolutely mind blowing. It is amazing to think how ahead of his time he was, not just with his guitar playing, but with song writing too. John Lennon once said that Chuck Berry was the first person to write popular songs with meaningful lyrics. At a time when the charts were flooded with songs about falling in love, Chuck Berry wrote songs about riding in automobiles and skipping school to see Rock and Roll bands. I think some of his lyrics are pure poetry. We are obviously heavily influenced by The Beatles, as any good band should be. I believe that the importance of the music they created could never be underestimated. I have to say I am also a massive (bordering on obsessive) fan of Bob Dylan; his lyrics are out of this world and he has the power to blow your mind in a few lines.
Dean: Mine are obviously quite similar. The Clash, as performers, are a big influence on me. Their energy, Joe Strummer in particular, he epitomizes what a Rock & Roller is for me- one of the best front men ever- a man of the people. Rodger Daltry of The Who as well. I always loved the arrangements of The Stones and Jaggers vocals.
Mandy: How do those influences reflect on your music?
Louis: I think you can definitely hear the influences of the music we love in our own songs, but at the same time we have created something that feels fresh. The trick is to take influences from a wide range of artists and create something of your own that people can believe in. Our music comes from the heart and when you believe in your music, it makes it a lot easier for other people to believe in you.
Dean: You can hear in our music the years of 'studying' we have done- All those blues tracks, all those 60's / 70's bands and all the modern day greats. When you gauge yourself on the likes of the Stones, Beatles, the Kinks, it's hard not to have the essence of what they were about in your own creativity. I have always been fascinated by that analogue sound. The vintage rasp of Little Richards vocals to the sound of Mick Jones guitar solos- that in turn is something that we want to recreate. The feeling behind any music is for me, paramount. We try to enforce that both sonically and lyrically like all our influences did/ still do. I have always had an obsession with the likes of Ennio Morricone and all those Sergio Leone films, those one liners and all those amazing scores. It's not just popular music really, that influences us. There's a mix array of other literature that certainly has had an effect on me- so I think that's in there too, somewhere.
Mandy: You've worked with some amazing people such as Tricky and opened for people like the New York Dolls, Alabama 3 and Pete Doherty, that has to be amazing? Any memorable stories?
Dean: Yeah, the collaboration with Tricky turned out amazing- very proud of that. His lyrics and our music go together amazingly well. I think he is releasing it next year so keep an eye out for that. The track we did together is called 'Believe'. It was great to support the likes of the NYD's and Pete- good to give them a run for their money I say. It was a good experience meeting Pete back stage as well- singing a few Pogues songs. Nice guy- great songwriter.
Mandy: You released your first album in September, that's every band's dream, how does it feel?
Louis: It feels great to be able to get our music out there so that people can hear it, I think most bands crave exposure and i'ts a really good feeling to know that the songs we have written and worked on, in a little practice room in Warrington, have the potential to be heard by the whole world. We are currently working on our next album and already have some awesome songs coming together that we cant wait for people to hear.
Dean: Great to get it out there. Once you have that finished article and its out there- people can't take that away from you. It's a great feeling and it will be one of many I suspect.
Mandy: What is your favorite song on the album?
Louis: I would find it really hard to choose my favourite song on the album. Sometimes when we've spent months working on songs, it gets really hard to get perspective on which ones we like the best. This can make it hard to choose singles and so on. But I don't think it's too much of a problem because I love every song on the album, so in that sense we cant go wrong.
It's more of a case of me wanting every song to be a single than struggling to find a certain one.
Dean: I love – 'The Love That Keeps On Giving', I think it's timeless. Sonically, it sounds amazing and there's true passion in there. There's a reference to a Henrik Ibsen play, where the main protagonist, a woman, longs for a man with 'Vine leaves' in his hair- referring to a man that lives with passion and not one to always stick to the rules. It always stuck in my head as a kid and I think the song encapsulates what we are about as a band. The idea that we are as one- dream big- go for it yarda yarda yarda…
Mandy: What do you enjoy more, recording in the studio or live performances and why?
Louis: I love them both for different reasons, Playing live can give you an amazing rush that is impossible to get anywhere else. It's such a good feeling when a crowd gets really in to the music. It really feels like we are achieving something worth while and its the best way to find out if your music is getting through to people because you see their reactions first hand. Recording on the other hand is really enjoyable and feels very satisfying because we are able to express ourselves and create something that could be timeless. The feeling of when a song comes together is very hard to beat.
Dean: Yeah, what Louis said, really haha. Both elements can only get better for us really. Soon enough we will be playing bigger, better venues and soon enough we will hopefully record in bigger and better studios.
Mandy: If you could work with anybody, dead or alive, who would it be?
Louis: At the risk of sounding cheesy, I would have to say at this moment in time, the lads in Slydigs are the best people to work with. We have spent years gigging together and learning how to craft songs and it just feels easy at the moment. Feeling relaxed around the people you are creating music with is a very important thing. This also applies with working with music producers. There are a few music producers I would love to work with. John Lekkie is a great producer and has worked on some of my favourite albums. It would of been interesting to work with Phil Spector in his prime before he started taking guns in to recording sessions
Dean: Dan the Automater, Danger Mouse, Dave Sardy, Ennio Morricone – all of them. I would love to work with Phil Spector when he went mental, just to see what he'd come up with.
Mandy: Any plans for an upcoming tour, maybe stateside?
Louis: I would love to tour the states, that is definitely something we want to achieve in the near future. America is where Rock and Roll started and we would love to visit all the places were the Blues originated from too. I personally would love to go to New Orleans, I imagine that place would be very inspiring to visit.
Dean: Definitely, hopefully we can get over there sometime next year- keep your eyes peeled.
Mandy: So here is my one random question, if you could have any present day artist/band disappear to never be heard of again, who would it be and why?
Louis: Hahaha if I had that power, I think I would end up banishing half of popular music. Don't get me wrong, I love all kinds of music from Dance to Reggae to Rap, but one thing I can't stand is manufactured music. Music that has no soul. Music for me means a lot more than light entertainment on a Saturday night. I think if the likes of X Factor, American Idol, Justin Bieber and One Direction disappeared tomorrow the world would be a better place, or it would have a better sound track at least.
Dean: Get rid of Justin Bieber, Bruno Mars, One Direction and that would do me. I'll shoot um – you dispose of the bodies!
You can find the Slydigs music on their Official Website | Facebook | YouTube | ReverbNation | Twitter AND follow Louis – Dean – Ben – Peter on Twitter.
Interview by Mandy Raytik
* * * Please support independent press * * * Thank you!