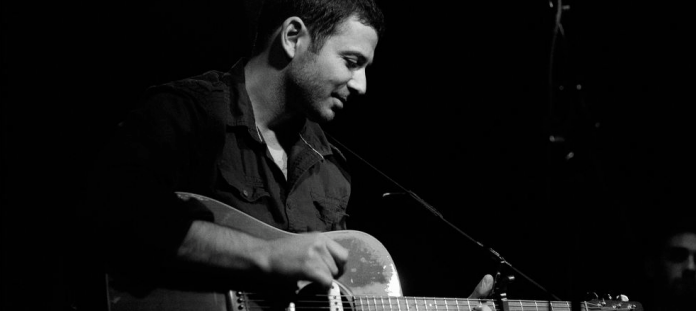 Steve Katz is a singer/songwriter born in Belgium but has been residing in New York City. Steve was influenced by his mother's musical taste growing up by listening to such bands as The Eagles, Pink Floyd and Supertramp. Steve recently released a 5 song EP, Barricades, and signed to an Indie label in NYC. We recently chatted with him about his EP and his influences.
Mandy: You grew up in Belgium but moved to New York as a teenager. I'm sure that has to be a drastic change in lifestyle. How has that affected you and your music?
Steve: Actually, I moved to New York in my late 20s, almost three years ago. Before that I lived in London and Israel for several years. I grew up and lived in Brussels until I was 18. The most drastic change when I came to NYC was the exposure to a place with such enormous energy, cultural diversity and endless musical opportunity. Nearly every day in New York I meet talented songwriters and musicians, which often leads to collaborations. It's easy to meet great and interesting people in this city.
Mandy: Your mother was a major influence on your musical taste growing up, are you still influenced by bands like the Eagles and SuperTramp?
Steve: Absolutely. Nobody forgets their first true love.
Mandy: What contemporary artists are you influenced by?
Steve: It's hard for me to point to a specific artist, but I pay a lot of attention to the structure, lyrics and instrumentation of contemporary songs. If I like something I will try to learn from it and implement it in new songs. While there are many great contemporary artists out there, my musical taste is sort of trapped in the '70s and '80s. I love singers and bands like Cat Stevens, Neil Young, Peter Gabriel, Supertramp, Genesis, Eddie Vedder, King Crimson , Dire Straits, Pink Floyd , Supertramp, the Eagles and Jackson Browne, among numerous of that elk. I agree that none of them are especially contemporary, but that's what I like.
Mandy: What is your process like for writing? Do you have the music first or do the words inspire the music?
Steve: Both. Sometimes the music comes first and sometimes it's the lyrics. There are no rules. More often than not, though, my songs are typically born with a musical idea.
Mandy: You play guitar and have for years. Do you play any other instruments?
Steve: I can make music and play basic things on a piano. I saw John Hiatt perform recently here in NYC (great show!) and his mandolin player inspired me. I'd like to learn to play a mandolin one of these days.
Mandy: You have a special relationship with India, can you tell us a little about that?
Steve:For me, India is such a magical and mysterious place. It's a true assault on one's senses. Much of the country is still a world away from the fancy trappings and convienences of Western culture. Sometimes it serves one's soul well to have to use a candle to read, a bucket to wash and to be grateful for nothing more than tea, water and rice. Also, my travels in India have led me to some of the most warmhearted people and breathtaking scenery I've ever known.
Mandy: You recently released your EP, Barricades. How did that feel?
Steve: It's exciting and feels awesome. One of numerous steps in this journey.
Mandy: I was listening to your music on www.stevekatzmusic.com, and I really love the song "Thrive", I could really relate to it. Is there one song of yours that you identify with more than the others?
Steve: Thanks so much. I appreciate your comment and it makes me feel good to know you identify with "Thrive." I've listened to and/or played each of my songs literally thousands of times. It really depends on the day and my mood with how each song moves me. However, like yourself, people seem to really react positively to "Thrive." One of the more touching messages I received was from a severely wounded US soldier serving in Afghanistan, who told me he listens to "Thrive" all the time and that the song is highly motivating to him in his darkest hours. As an artist, it's hard to imagine a more gratifying connection with a listener of my songs than that.
Mandy: What is your favorite song of all time?
Steve: Hmmm. You're definitely giving me some thought-provoking questions today. Right before I sat down to complete this interview, I listened to Hallelujah by Leonard Cohen and was thinking, as I always have, that it's just a spectacular song. So, today my favorite song is Hallelujah. Tomorrow I'm sure I'll have a different one.
Thank you Steve! You can find Steve and his music online at the following locations: Twitter, Facebook and more on his Official Website.
Steve Katz – Photography Jimi Sweet
Interview by Mandy Raytik
* * * Please support independent press * * * Thank you!