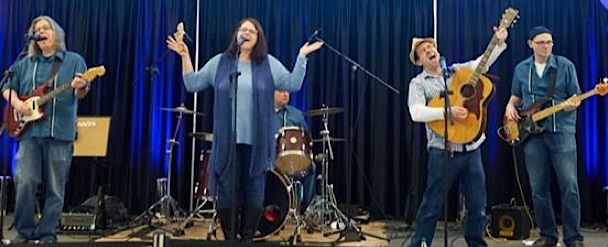 "Q & U," "Similes and Metaphors," and"Prefix or Suffix?"–these are just a few of the fun, catchy, and underlyingly educational songs by a family-friendly band known as The Bazillions. At the heart of this highly acclaimed Twin Cities based band are husband and wife team Adam and Kristin Marshall.
Known for their soothing melodies and fun animated videos–which have been viewed via YouTube more than seven million times and are directly inspired by "Schoolhouse Rock" and "Sesame Street"–the couple delivers tight harmonies, smart lyrics and high-energy pop beats via four award-winning albums.
The band's latest album is titled "Rock-n-Roll Yearbook" and it became available on August 25, 2017. This album was crafted with love and detail, like the other offerings from this Parents' Choice and NAPPA Award winning band. The catchy tunes have been aired on SiriusXM Satellite Radio, Radio Disney, and 89.3 The Current and have only been growing in popularity.
From the first hand-clappy track "Back to School," the energy remains high on this new album. "New Pair of Shoes" expresses the joys of getting new gym shoes and being able to run faster than ever, and "That's My Style" celebrates individuality. Learning opportunities arise with "Take Turns" to "Who What Where When Why" and "The Wide Open World of Adjectives." Some songs are aspirational, like "You Could Be the One" and "Queen Ellen of Spelling Bee." "More To Be Done" embraces the future and how children have an important voice in making the world a better place. Flights of fancy make a boring day better on "Just Another Monday." And "Keep Your Identity Safe" is a poignant ballad about a superhero-style pact between friends as one of them moves away. The album ends with the exuberant "Summer's Here."
Appealing to adults, Rock-n-Roll Yearbook is chock-full of musical references, from The Fab Four to The Who, The Monkees and Elvis Costello to bossa nova master Antônio Carlos Jobim. Songwriter Adam Marshall grew up steeped in the bright harmonies and hooks of 60s bands like The Hollies and The Mamas and the Papas. His SiriusXM favorites list is topped by the Beatles channel. Kristin Marshall grew up infatuated with harmony. Her mother sang in a Sweet Adelines group, and she and her siblings often tried to mimic the harmonies together. Kristin and Adam met acting together on a theater tour. One day, Kristin started harmonizing with songs on Adam's demo tape, and he realized that her voice made everything sound better. They formed the indie pop band The Humbugs and moved to the Twin Cities. As they both taught at Kenny Elementary School, they started writing and recording songs and formed The Bazillions, almost as a lark. The project took flight, and today The Bazillions perform hundreds of shows around the Twin Cities and beyond, and their videos have been viewed by kids on every continent. The Marshalls live and work in Minneapolis with their two children.
Teachers and parents write to The Bazillions every day to say how they learn from their songs and videos. They're excited to share Rock-n-Roll Yearbook with fans and the band is currently developing a downloadable "Rock-n-Roll Yearbook" for fans to track their progress through the coming school year, and they'll be producing new animated videos.
Adam and Kristin Marshall recently discussed the band and more via an exclusive interview:
Meagan Meehan (MM) of Entertainment Vine: How did you get interested in many music for kids?
Adam Marshall (AM): We had been playing music for quite some time as our adult pop band entity, The Humbugs, when Kristin and I started working at schools. We also started our own family around that time so kids were definitely in the spotlight. On my first day at school, a kindergarten teacher whom I was working with had heard I was a songwriter and asked me to write a song that she could use as a teaching tool. She left and I sat down at an old upright piano and wrote something over lunch. After that I started playing music with the kids weekly and figured that I could write some songs for them. It was a pretty natural progression. Soon parents were asking where they could find the songs and who wrote them. That's when we realized that we should form The Bazillions. It was supposed to just be a one-time side project that soon snowballed into our career.
MM: What's the oddest thing that ever inspired a song and do you have any favorite songs?
AM: There are a lot of stories behind the songs, and how we came up with the ideas. Maybe the oddest one is "Mom, Dad You're Embarrassing Me" from our second album Heads or Tales. This song almost wrote itself with embarrassing tidbits of Kristin's childhood including embarrassing baby photos, nicknames, and parents dancing in public.
If you mean a favorite Bazillions song, it's hard to pick a favorite, because you like them all for different reasons. There are certain ones like New Shoes, Super Hero Rock Band, Family Tree, and Supersonic Rocket Bike that really get the kids dancing and singing along. Then there are others like "Preposition" or "Silent E" that I am proud of for their educational impact. And, finally, others like "Keep Your Identity Safe" which is about a best friend moving away that are so slice of life that they take you back to that time that it happened to you (cue single tear).
MM: What can people expect from your concerts?
Kristin Marshall (KM): We hope that people of all ages are able to have a good time and do some dancing. We incorporate handheld props for the kids when the setting can accommodate that. We really try to write tunes that are not your typical children's songs. They have pretty complicated things going on so that they can be musically interesting to just about anyone. They also have a good bit of humor sprinkled in. I would hope that anyone at a show would walk out exhausted from dancing, hoarse from singing along, a little smarter, and with a permanent grin.
MM: How did you secure a place at Symphony Space? It's your first time performing in Manhattan, right?
AM: Yes, this is The Bazillions first time playing in Manhattan and we are incredibly thrilled. As for how we got there, we have been solidly dedicated to making the best children's music we can for several years, so I hope that some of it had to do with our catalogue of work. We are very lucky to have an amazing PR person who is a rock star in her own right. Plus, we have been very fortunate to win several awards (Parents' Choice Gold, NAPPA, School Library Journal) with "Rock -n- Roll Yearbook" which was released last year. That couldn't have hurt.
The show is Saturday, February 17 at 11 am at Symphony Space. More information here.
MM: How do you hope people are inspired by your music and what kind of feedback have you received?
AM: Really, I hope that our music brings people joy. Parents often tell us that it is all they listen to in their car and we are often a big part of family sing alongs. We also hope that it inspires some kids to be musical and sing, or take up an instrument. Music has been such a life long gift to all of us, hopefully that love we put into it spreads to our listeners. Thirdly we really do hope that it offers teachers and students a tool to grasp some lessons that they may have been struggling with. We do hear a lot from parents and teachers all over the world. I never get tired of that. Sometimes it is a request for us to write a song about something specific and sometimes it is just a thank you for helping them learn or teach something. All our interactions with fans are what keep the inspiration flowing on our end to try to make more and more quality material.
MM: What do you regard as being your biggest achievement thus far?
KM: Actually, surviving as a band for as long as we have and having people all over the world listen to your music is a pretty amazing achievement. But I think that the most truly moving thing happened back when we were both working in public schools she was monitoring a test and there was this girl who struggled academically in her group. They had been singing our song, "Similes and Metaphors" in their class. When this student got to a section on that subject Kristin heard the girl humming the song and later found out that she had gotten the questions right. I will never forget that moment. I still get choked up when I think about it. That's why we do what we do.
MM: How do you hope your shows expand and evolve over time?
AM: Since so much of our music is about the life of an elementary student we would love to develop a musical using both our existing catalogue and new pieces. It would also be great to someday jump over all the logistical hurdles to make our show have more multimedia elements.
MM: How do you create your animated videos, and why do you think so many people have viewed them?
KM: It all started at our first official show as the Bazillions. Some good friends of ours who happened to be graphic artists, Eric Kreidler and Gretchen Blase, came to check it out. Eric had been thinking about trying to start doing animation and he asked if he could try animating some of the songs. To which we shouted an emphatic yes. Soon the Bazillions and EG Designs were partners. Before we make a video we all put our ideas on the table and discus where it could go. Eric storyboards it and then devotes an endless amount of time to create a product that we are super proud of. Our first video that really took off was Preposition, which now has 2.3 million views. Oddly enough I think it was some teachers in South Korea that found it and shared it in a forum. When that took off we realized that there must be a need for educational videos so we started making more. Teachers are always looking for ways to help their students grasp a topic and remember key elements. I think the trick for us is to make the tune as catchy as possible. We also try to take the subject matter that we are teaching and put it story format to bring the elements to life. The animation then reinforces all those elements and can push the topic further with a visual foundation. Children and teachers on every continent have viewed our videos; some just for fun and some to help pass that test.
MM: What's coming up next for you?
AM: Well, something is always in the hopper. Eric is ready to release our next video any day now. I am a good way into writing our next album and Kristin is due to start working with a friend of ours to see if we can come up with that musical we dream about. We love it all. Summer is also just around the corner. (I say that as I see it's going to be -10 this weekend in Minneapolis.) Summer is when we do the bulk of our performances so that is always an exciting time for us. We will just keep being dedicated to making the best product that we can for kids, families and teachers. You never know what is right around the corner for The Bazillions.
* * * * * *
To learn more, visit The Bazillions official website, Facebook, and YouTube full of delightful animated videos!
* * * Please support independent press * * * Thank you!