New Music Friday!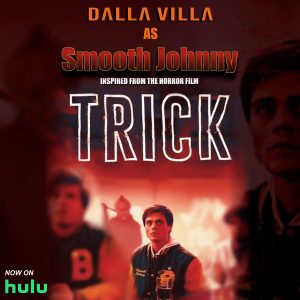 Actor and music artist Aaron Dalla Villa created a new song titled "Smooth Johnny," inspired by his role in the horror film "Trick," which is currently airing on Hulu. With the same name as his character from the film, this song is available now (October 15, 2021) in digital format through "Dalla Villa's" Spotify, iTunes, Apple Music, Google Play, Amazon Music, iHeart Radio, Pandora, Deezer, Napster, and more outlets on.
Listen to the "Smooth Johnny" song here: https://open.spotify.com/album/2tAMY61Eclbtctt6HqoNIe
Aaron Dalla Villa was born and raised in Suffolk, Virginia, and studied music and dance training at the prestigious Governor's School for the Arts in Norfolk, Virginia, in classical ballet and classical modern dance. Before experiencing an injury, he had a career in dance and worked with NB2-Nashville Ballet Second Company.
After moving to NYC, Aaron continued to pursue performance as an actor and was featured in numerous film, television, and theater roles. He has over 50 IMDb credits that include a starring role in the feature film "Pledge" (distributed by IFC Midnight), a starring role in the feature film "Alpha Rift," a supporting lead in the feature film "All Those Small Things" (for which he also wrote some music for), a starring role on the series "Duels," a spot on "Gotham," a spot on "Madam Secretary," a spot on "Late Night With Seth Meyers," and voice work for "Hollister," "Starburst," "Liberty Mutual," and in the popular video game series "Earth Defense Force." In addition, he won Best Ensemble Broadway World Long Island 2015 for "Orphans" by Lyle Kessler, directed by James Bonney at the Conklin Theatre. He was also nominated for BEST ACTOR for his work in the award-winning short film, "The Fold," directed by Andrew Kiaroscuro. And he recently played the role of Mordred in "Camelot" at the Bay Street Theater in New York.
Due to the world's complications with COVID-19 and with the TV/film industry shut down in 2020, Aaron decided to dive back into his musical talents and now has music available on all major platforms under his artist name DALLA VILLA.
Aaron has dropped several singles currently available on digital music outlets under DALLA VILLA so far, including "Bring It" (in collaboration with Grammy Award Certified Health Champion, Paul Anthony, of the Legendary Hip-Hop / R&B group, Full Force), "Conspiracy" (directly inspired by Eminem), "Demon Killer" (inspired by Kanye West, MF Doom, and Nas), "D20: Alpha Rift Tribute" (tribute to another film he did titled Alpha Rift + music video with over 100,000 views) and now the upcoming "Smooth Johnny" song.
Aaron Dalla Villa is represented by Bonnie Shumofsky of Stewart Talent and Wendy Shepherd of Studio Matrix .com for publicity and brand management.
Official links:
IMDB – imdb.me/aarondallavilla
Website – http://aarondallavilla.com/
Instagram – https://www.instagram.com/aarondallavilla/?hl=en
Twitter – https://twitter.com/aarondallavilla?lang=en
Facebook – https://www.facebook.com/aarondallavilla/
Spotify – https://open.spotify.com/artist/6ZPC8mi4UJerc12e765nyX?si=Qxqm1gIzT5G9gTa3n3Z_hQ
* * * Please support independent press * * * Thank you!