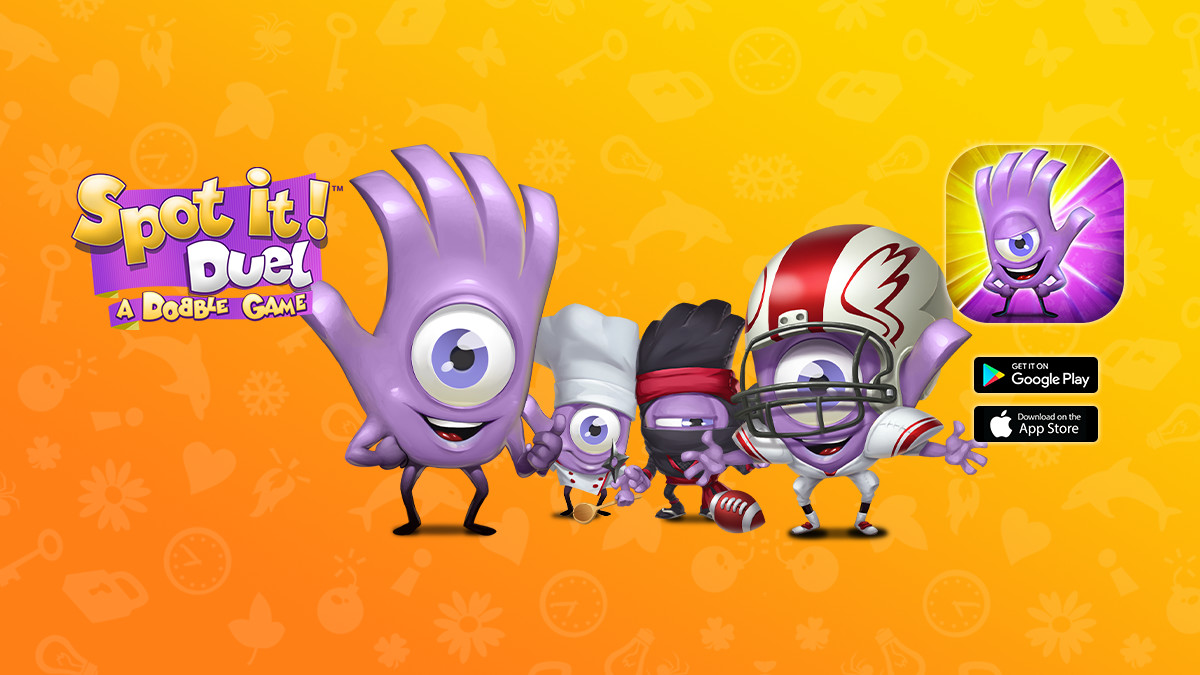 "Spot It! Duel" is the newest game in the "Spot It" franchise that was released for iOS and Android in late June of 2017. The symbol-matching gameplay is fast-paced and appropriate for all ages. The game is the newest addition–and the first digital offering–to the "Spot It" series which has been entertaining people since 2009. The game works in "Arena Mode" where two or more players select a "Dobble" character to battle or play alone via a solo mode. Winners advance in the game.
"Spot It" was created by Asmodee Digital which is a division of Asmodee, one of the largest physical board game companies on earth that have ''Catan'', ''Ticket to Ride'', "Jungle Speed," and "Dobble." The digital segment of the Asmodee is dedicated to turning the popular board games into app and/or computer games. Thus far, they have released titles including "Potion Explosion," "Colt Express," "Ticket to Ride," "Onirim," "Splendor," and more.
Philippe Dao, Asmodee Digital's CMO, recently discussed the company and his hopes for its future.
Meagan Meehan (MM) of Entertainment Vine: When was Asmodee started?
Philippe Dao (PD): Asmodee Editions was established in 1995.
MM: Right now, how many games does Asmodee offer? What are your age ranges?
PD: Asmodee publishes hundreds of titles including family friendly beginning board games that are great for kids as young as seven; strategy board games and party games that are accessible to older children and adults alike; and collectible card and miniatures games that focus on a hobby gaming audience.
MM: What prompted you to open a digital component to your company?
PD: We started Asmodee Digital so that we could make digital versions of our games and established fans could play them more, and new fans would get the chance to try our games. Our aim is to provide a complementary experience to the players on digital channels. For established players of our most popular games, a mobile or PC version lets them play a game with less set-up (and clean-up!) time. Plus, for our games on mobile, players can play while they're on the move. For new fans, digital versions of our games give them the opportunity to try our games out at lower cost than a full physical version. Also, it gives us the opportunity to reach more potential players.
MM: What are some of your most unusual products? For instance, what game concepts, settings, it storylines really stand out?
PD: We strive to develop innovative games mixing analog with digital. We have a growing focus on new platforms and new technology we think will offer real enhancement of the players experience, like AR and VR.
MM: How did you come up with the concept for "Spot It" and why do you think the series has become so extremely popular?
PD: "Spot It!" was published in 2009 and is known as "Dobble" in Europe. It won many awards recognizing its original concept that creates a challenge for parents and children alike, putting them on much more equal playing field than many popular family board games. It has sold 10 million of copies and featured many different themes and AAA licenses (Cars, Star Wars, Frozen), and its quick play and fun pacing made for a great digital adaptation.
Given the enormous popularity of Dobble! with people of all ages around the world, recreating the classic, fan-favorite experience in a digital adaptation was truly a labor of love. We worked hard o to make Spot It" Duel – A Dobble game one of the best games in the franchise, both for the existing community and newcomers alike.
As for the digital adaption of "Spot It!" we focused on re-desiging the original card game to make it attractive and exciting to mobile gamers always looking for challenges. Players match symbols as fast as they can, collecting rewards, Dobble characters and bragging rights along the way. Building up bigger combos will score extra points, but players must balance their strategy and speed to survive. The game's vibrant presentation and simple play mechanics are perfectly accessible for all ages, but increasingly difficult challenges will keep even the fastest fans on their feet. In short, Spot It" Duel is a family game night just waiting to happen.
MM: What are your most popular games to date?
PD: Our most popular digital game is "Ticket to Ride" though we've released quite a few new digital games in the last year that are quickly finding an audience among game lovers. "Pathfinder Adventures," "Splendor and Pandemic" are also very popular adaptations!
MM: How do you think up ideas for your products? For example, do you ever work with inventors?
PD: Asmodee regularly works with game designers from all over the world to create new products and continue to create new content for existing products. We have a team that is constantly on the lookout for innovative new ideas and we have several studios with game designers, artists, and game producers who work on new concepts each day.
MM: To date, what has been the most rewarding part of working with Asmodee?
PD: One of the most exciting aspects of working with Asmodee is being able to work with such a large collection of well-designed and beloved games. The company is connected to some of the best board game designers in Europe, North America, and beyond.
MM: Where do you hope the company will be in ten years?
PD: I can only speak about Asmodee Digital and I do hope we will continue to create some of the most entertaining digital board experiences for every type of audience, from casual player to hardcore strategic gamer. We have an impressive catalog already, and much more in the works for the next several years. We'd also like to see some great digital resources for physical games and a unified sign on to easily find friends to play with across all games.
MM: What advice would you give to someone who is striving to enter the toy/games industry?
PD: That really depends on what they want to do. They are many different types of jobs in the industry from logistics to illustration to game design to project management. It's most important to know what type of work you'd like to do and get good at that type of job, even if it's in a parallel industry. Many of the skills you will develop in other industries transfer into the toy & game industries. If you are interested in game design in particular, it's important to make sure you play a lot of games and understand what is interesting about some of the more popular games. Make sure the products you develop are getting a lot of blind playtesting and take heed of the feedback.
MM: Are there any upcoming events that you would like to mention?
PD: We're looking forward to Gen Con, where Asmodee will be presenting many of the new digital board game titles for 2017 and announcing a few exciting developments of digital board games. Most recently, we're playing a lot of Spot it! Duel, Pathfinder Adventures, Onirim, and excited for some of our next digital releases including "Ticket to Ride First Journey," "Smash Up.".
* * * * *
To learn more, visit Asmodee's official website and YouTube.
* * * Please support independent press * * * Thank you!