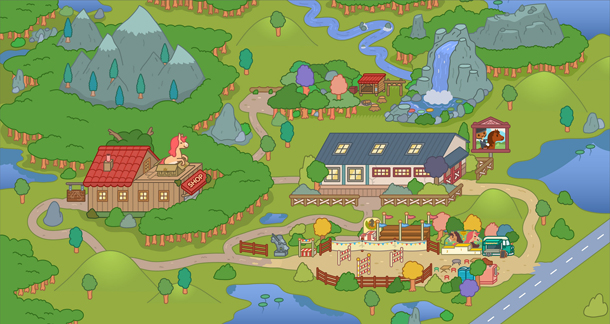 Toca Boca is the no. 1 mobile first kids brand on the app store. Since its launch in 2011, the company has created over thirty apps that have been downloaded more than 150 million times in 215 countries. All Toca Boca apps aim to enable children to stimulate their minds and imaginations via open-ended play. Essentially, each app works like a virtual playset where children can make up their own stories within a specific theme such as a school setting or an airport. Most recently, the company added a new game to their "Toca Life" roster. The newest chapter is titled "Toca Life: Stable" and it enables kids to enter the equestrian world anytime, anywhere.
"Toca Life: Stable" takes place in a stable setting where children can pick a horse to care for. The activities pertaining to caring for the horse involve feeding it, washing it, brushing it and even cleaning up its stable. Essentially, the app aims to playfully convey the responsibilities of real-life horse owners. The horses can also be taken out for rides and exciting adventures in the wilderness or jump fences in a fancy arena show. Kids can dress the horses up in outfits ranging from western to medieval and record their storylines to share with family and friends. Of course, being an imaginative series, the game also features fun and zany elements such as the option to take the horse on a canoe or camp out with it under the stars. The game comes equipped with twenty-four new characters and sixteen unique horses. Interestingly, the idea for this setting was inspired directly from consumer feedback. "We've received thousands of feature requests around the Toca Life series from kids around the world," said play designerPetter Karlsson. "Of those requests, kids have been asking for horses and other animals for years. We even had one fan send us an adorable handwritten letter two years ago asking for a stable and including a drawing of horses and locations she'd like to see! We invited her in to help play test Toca Life: Stable when we were creating it."
The designer's goal when creating the game was to make it fun, whimsical, and somewhat zany. The app is full of cute surprises, such as a tiny fairy-like creature that lives in a tree in a store. "We are lucky to have artists in the team who are just over-the-top filled with creativity," Petter Karlsson proclaimed. "They often come up with the most wonderful, weird ideas. But we also have a very open attitude when it comes to wild ideas so anyone in the team can pitch in something and then we will see if it something we can realize. Sometimes figures are a bit connected between the apps, like the small creature living in the tree – you can find creatures of the same species as it in some of the other Toca Life apps! We also want to give the user something unexpected. Something a little bit hidden under the surface that is nice surprise. It can be a little hidden object or sometimes a bit of bigger theme." Petter admits that his favorite aspect of Toca Life: Stable is the character's ability to ride around on the horses. Yet the game was challenging to create since the team had to find a way to marry reality with fantasy. As Petter explained, "For all kids deeply involved with horses I really wanted them to feel that even if this is playing with horses in a bit of fantastical world, that they could still do the things they normally do around and with horses. We took help from kids and adults who are into horses and worked with them to get objects, outfits, locations and of course horse ending up in a good way."
Toca Boca has many exciting things to come. On December 8, they are releasing "Toca Hair Salon 3" which will debut three years after the last salon-themed game. "Toca Hair Salon 3" will let even more kids see representations of themselves and their friends as they get creative and be silly with hair. All Toca Boca apps are kid-friendly and include no in-app purchases or third-party advertising. The gameplay is free of rules, levels or high scores. "Toca Life: Stable" is $2.99 on the App Store, Google Play and Amazon.
To learn more, visit the official Toca Boca website.
* * * Please support independent press * * * Thank you!