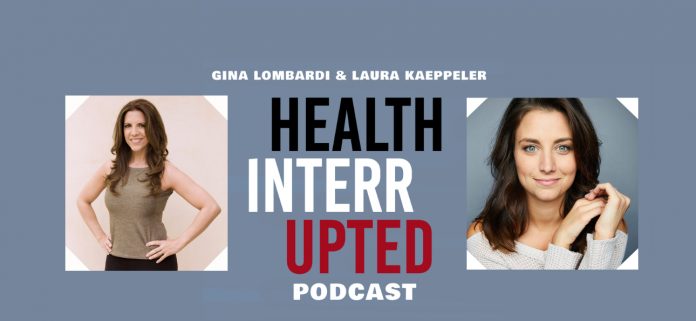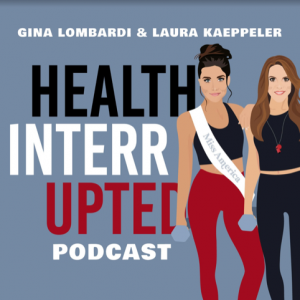 "Health Interrupted" is a fairly new podcast that was launched in February 2021 by fitness trainer Gina Lombardi (Discovery TV's "Fit Nation," "The Talk,", "Extra!") and 2012 Miss America Laura Kaeppeler who is a nationally known singer, speaker, and advocate for at-risk youth. The podcast show highlights people who have achieved wellness despite health setbacks. No matter the size of the setback, each person has a story they share about how they have overcome a challenge and found a way to thrive. The show also provides tips to use in everyday life to help people better themselves.
Guests include wellness experts in addition to other guests in many different fields, including celebrities, doctors, teachers, athletes, teenagers, and more.  It's a show that wants to inspire others by sharing stories of people who have made it through hardships to succeed to where they are today. Life is full of interruptions, and some are more traumatic than others. These stories tell of ways that people have taken back their health in one way or another.
Encouraging and uplifting stories in the "Health Interrupted" podcast include the following guests:
Stacey Beaman, the co-founder of Plyojam, talks about inclusivity and being worthy of a movement.
John Mendoza,

a comedian, and actor who had a stroke at age 77, talks about how he discovers the power of food.

Stephani Victor,

an actress, turned Paralympic gold medalist. She talks about how tragedy turned triumphant.

Arash

, a top experienced Beverly Hills dentist to the stars, talks about his mobile dentistry.

Liz Svatek,

the founder of The Warrior Moms, has an online community that encourages moms to put themselves back on the list.

Shawn & Bita Nasseri, and their take on cleaning your nose, the Covid-19 vaccine, and the Euka Bento Box.

Jessie Graff

, a Ninja Warrior and stunt woman, talks about "Ninjuries" and eating for performance.

Chelsea McCarthy,

an entrepreneur, and artist who got cancer at the age of 20, talks about how she survived two bouts of cancer under the age of 30.

Dave Lopez,

a CBS News icon, discusses his diagnosis of prostate cancer, skin cancer, losing his wife to cancer, and how caring for elderly parents can destroy the patient and their family.

Joya Santarelli,

a former Miss Wisconsin diagnosed with Multiple Sclerosis, is thriving and surviving with Yoga.

Jordan Doww,

an actor, comedian, vocalist, host, and YouTube personality talks about depression, anxiety, and rising above the trap of social media fame.

Payam Hakimi,

an award-winning family physician, and Shiva Hakimi talk about the shift to functional medicine for a body in harmony.

Eric Tozer,

a TYPE 1 diabetes ambassador, inspires people through sports and utilizes his athletic accomplishments as a platform to be a role model in the diabetes community.

Meridith Alexander & Schuyler Arakawa,

a mother and daughter, share about surviving the impossible.

Sharron Melton,

Houston news anchor, speaks about losing her mother, losing Covid-19 weight, and her childhood interruption.

Clint Malarchuk,

NHL goalie who shared his tragic news, being a suicide survivor and becoming a mental health advocate.
These are just the first of many inspiring guests the "Health Interrupted" podcast will showcase. These personal stories will hopefully help others overcome and thrive through their own health interruptions.
Check out Gina Lombardi and Laura Kaeppeler's "Health Interrupted" podcast at https://healthinterruptedpodcast.com and follow on Twitter, Instagram, and Facebook.
Article by Wendy Shepherd of Entertainment Vine.
* * * Please support independent press * * * Thank you!