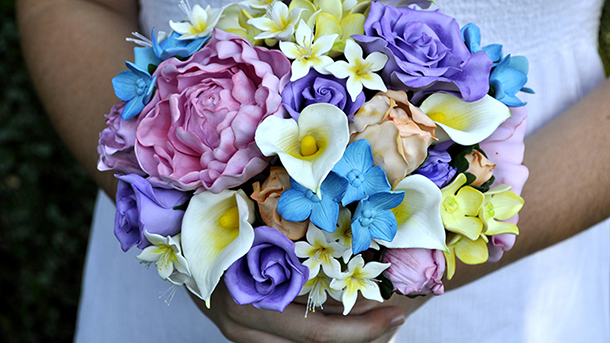 Polymer clay is one of the most versatile artistic mediums, used for jewelry, trinkets, and fine art alike; some artists even use polymer clay as a staple medium–Iris Mishly is one such artist.
Iris Mishly is an Israeli artist who discovered polymer clay by coincidence in 2004 when she took a class pertaining to it. Having previously worked as a web-designer for fifteen years, Iris decided to take a new path and share her knowledge of the clay with others–something that she now does via the internet for a global audience.
According to Iris, "My passion is to invent, discover and experiment with the endless faces of polymer clay, offering educational video tutorials to novice and advanced, hobbyist and professional polymer clay artists looking to expand their crafting arena. I love mix media and use other materials along with my clay work – fiber, macrame cords, metal, zippers etc. I believe craft and art are the ultimate cure to everything, there are no limits or borders, that what makes it so exciting and thrilling."
Recently, Iris Mishly gave an exclusive interview about her experiences working as a polymer clay artist and her hopes for the future:
Meagan Meehan (M.M.) of Entertainment Vine: How and when did you decide to become an artist?
Iris Mishly (I.M): In Israel you can choose which school to go to in your last 6 years of childhood. I chose an art school and focused on fashion and graphic design. This decision made me realize that art is something I love to do and will accompany me for life. Although I finished my studies in arts I decided to do my Bachelor degree in something completely different – human services and Hebrew language only to realize that I am still attracted to art and cannot let it go.
M.M.: Growing up, which artists/types of art interested you?
I.M.: Back at the 1980s we had fun craft classes in school. I joined each and every one. Ceramics, sewing, drawings, painting, weaving and every art field brought in class. Sadly, classes are slowly disappearing due to technology taking over. I experimented in many types of arts including artistic makeup!
M.M.: Why do you focus on working with polymer clay?
I.M.: Polymer clay is a magical medium. Although it is sometimes considered to be a children's crafting material, it has thousand faces. It can be textured, painted, carved, pierced, made into faux stones, mimic glass, the techniques and designs are really endless. This is one of the reasons you can never have enough of it, if you are bored with one technique you can always move to discover the next one and the next one.
M.M.: How would you describe your art and what inspires your pieces?
I.M.: I am an explorer. Even though I used to work in a specific technique back when I started, I changed my style during the ten years I'm working with polymer clay. This is also connected to the fact that I am concentrating to sharing my knowledge with people so I'm always checking the limits wanting to discover new face of this material. I was a web graphic designer so I'm very sensitive to colours and patterns. My inspiration is all around, international artwork (via traveling), other crafts and mediums, designs and materials, patterns surrounding us and more.
M.M.: How did you go about getting your work known to the public?
I.M.: Starting in the Israeli polymer clay guild I slowly become active in the international scene, teaching, sharing my experiments and research, attending international events as well as promoting my work in blogs and in online shops.
M.M.: Do you have a favorite piece or style? If so, which one and why?
I.M.: It depends when you ask me. As an explorer, my favorite style changes constantly. At this moment, I am very enthusiastic about polymer clay combined with micro macrame. I haven't seen a lot of artists do it and to my eyes it is a perfect match. Most macrame artists use gem stones while I use the "power" of polymer to combine cords and clay together. This is definitely my favorite style these days.
M.M.: Aside from being an artist, you are a teacher. How did you decide to start creating polymer clay tutorials?
I.M.: The demand for knowledge especially in distant areas/countries where no teachers or polymer clay community exists, led me to start sharing my techniques. Living in a far country I wanted to make the world a little closer to all polymer clay artists and hobbyists. I have both free and paid classes to offer, mainly to students who are geographically challenged or cannot travel. They can learn all I know via PDFs & videos, in a single click.
M.M.: To date, what has been the most rewarding experience involving your artwork and/or being an artist?
I.M.: Teaching is so very rewarding. I am so happy and proud to see my students' work and to hear their positive feedback and support in my classes. I enjoy seeing loyal students who which keeps coming and ordering every class I offer. That is heart-warming. I work very hard to make sure my classes are packed with all the required information and are very easy to follow. My students' support is my rewarding experience.
M.M.: Career wise, ten years from now, where do you hope you will be?
I.M.: I hope to continue teaching, exploring polymer, expanding my students and my own knowledge while enjoying my time with my husband, two children and future grandchildren!
M.M.: What advice would you give to someone who is aspiring to become an artist?
I.M.: Learn, pursue your dreams and don't be afraid to fail forward. Being a full time artist wasn't something I planned ahead. Life offered me this option after a day job I worked in was canceled. I had to go home. I had to make a choice whether to take another day job or take my polymer hobby into a full-time job. I decided to follow my dream. The road was bumpy and sometimes hard but I didn't give up! If you are willing to work hard, learn a lot, keep a regular routine while do what you love – do it with all your heart!
M.M.: Are there any upcoming projects and/or events that you would like to mention?
I.M.: I would love to travel and teach my techniques worldwide! If you are a guild or a group of artists, looking for fun workshops, playing with clay, colours and mix media – please let me know! I'd be happy to share my knowledge and meet new people!
* * * * *
To learn more about Iris Mishly visit her official website and Facebook.
* * * Please support independent press * * * Thank you!